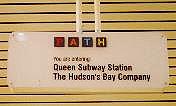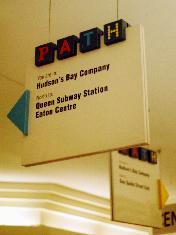 You are...
In the Eaton Centre, headed for the subway or The Bay -- or maybe headed back. No wait: let's cruise housewares! There's a sale on!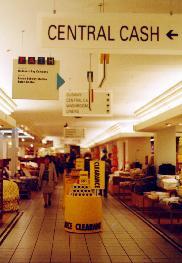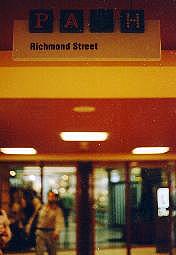 You are...
Under Richmond Street, then Bay: but for signs (few well lit) you'd never guess.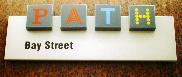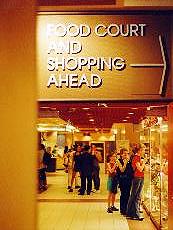 You are...
Shopping! Or eating: here a snack stop beneath the Sheraton Centre, & a food court daylit from Adelaide for lunch. There's no need for light at night: after 5:00 the place is deserted.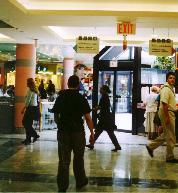 You are...
Making a killing (or maybe getting killed): manage your money on the spot, under Scotia Plaza or the Bank of Montreal.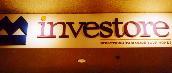 Standing on the Eaton Centre's Level 1 (two floors below the street at Dundas, just one at Queen, downtown's gentle slope south to the lake otherwise not much noticed), you stand amidst a complex more vast. It runs from the bus station on Dundas north of Bay to the Air Canada Centre on Lake Shore Boulevard, far south; from One Queen East, at Yonge, west to the CBC Broadcast Centre way over on John Street, at Front.

Its pathways stretch some 10 kilometres, past more that 1,100 shops, stores and restaurants (counting those around you near eatons), connecting to more than 60 buildings, five hotels, 20 parking garages, and (via one of them) City Hall. It is called PATH: Toronto's Downtown Walkway -- that name not suggesting its most distinctive feature: it's underground.

Not all of it feels subterranean. Even from parts of the Eaton Centre's lower level you can still look up and see sky -- or at least that vast galeria skylight. Coming from the bus station through the Atrium on Bay, you walk bright spaces 14 storeys high; at First Canadian Place the walls around you rise (in endless white marble veneer) up through its sunlit lobbies.

But along the whole route you walk level, more or less, with the ticket booths of downtown's subway stations -- five of which you can walk to on PATH.




Signs show the way (or, as you'll see, sometimes don't). The one here, top left, leads us south from the Eaton Centre to the Queen subway station -- or past it, to The Bay's basement housewares (one of my regular routes: I love Lagostina; Le Creuset -- if the last pot I actually bought cost all of $12).

That leads west, under Bay Street to the Thomson Concourse, to the Sheraton Centre's shopping and food courts, then south under Richmond (not that you'd know but for a small dim sign) to the Richmond Adelaide Centre. We could stop for lunch. Or maybe pick up something fast (if not cheap) at the "Market Place" under First Canadian Place.

We can check our stocks on the way at that convenient "Investore" tucked beneath the Bank of Montreal's 72 dazzling white storeys. Or maybe over in Scotia Plaza, back under Bay through a tunnel of elegant puce granite. And hey: need a shoe shine? Airline tickets? Right here....

I could go on -- or you can follow the maps below. Or try to.
High concept; low comprehension

What is now PATH, Bob Fulford wrote in Accidental City, was long "a trackess wasteland" with nothing to help you find your way. Signs & maps at last appeared in late 1993, done by the firm of Gottschalk & Ash. A US graphics society gave them an award: designers do love clever concepts.

Among them here: directions colour coded: north is cool blue; south hot red; east sunrise yellow; west orange. So intuitive. Less so are wall maps where up is... red (see left, on a Sheraton south wall). Or orange (below, looking west at Scotia Plaza). Whichever way you happen to be facing is up.

Clever eh? To most it just turns the world on its side. Or its head. Maps (detail below left: just the part within the subway's south loop) also simplify reality (right). Winding ways look straight; most buildings, real shapes aside, are square. Distance is squeezed; streets are barely there.

The real city is above. Below it becomes virtual reality.
But let's go back: to how PATH came to wend its way beneath this city's towers. It began with those towers -- at least the way it is now. Eaton's had linked its earlier vast complex (main store, catalogue store, bargain annex and stable) with tunnels under streets, five by 1917. But that was nothing like this.
To John Bentley Mays, PATH seems "a rather straightforward result of the desire of postwar developers of tall buildings to maximize the commercial value of their deep foundation structures." True. But nothing about it was straightforward.
Bob Fulford points to city planner Matthew Lawson, seeing in the early '60s that "much of the future of downtown was below grade." Montreal already had its big concourse under Place Ville Marie (now spread to more than 30 kilometres, with 1,600 stores). Pierre Berton wrote in 1962 that it had put the town decades ahead of Toronto -- and of course we couldn't have that.
Lawson convinced the Toronto Dominion Bank, finishing its new centre in 1964, that basement retail would work. It did, more or less, if long all on its own. Then he coaxed the new Richmond Adelaide Centre, the Sheraton Centre going up across Queen from City Hall. To all he hinted that their lower depths might in time be linked, the city picking up the tab for tunnels. Or half the tab, anyway.
The reform council of the early '70s, fearing the new underground would sap life from city streets above, cut the tunnel subsidy to 20 percent. Then to nothing. But, as Fulford wrote: "By then the system was beyond halting. The owners of each new building wanted to be connected, whether they had the city's blessing or not. Tenants had come to expect it."
The legacy of that mixed civic blessing lies beneath the city's public streets: tunnels whose status as public space is far from clear. The handful of big banks and corporations who own most of Toronto's downtown towers also own their "deep foundation structures"; however "public" in use and appearance, they remain private property.
If you doubt it, try hoisting a picket sign there, or handing out info on the right to collective bargaining. A big retail union tried that in the Eaton Centre in 1984 -- just leaflets, no signs, no blocking the "public way." Cadillac Fairview called the cops; the undesirables were busted for "trespassing on private property."
Some tunnels may be public, some partly, some not; which ones it's hard to say without a title search. Street people have tested their status in action. Or inaction: trying to sleep there, out of the cold. They get booted out -- usually by private, not public, police. As Bob Fulford said: "Owners maintain rights by exercising them, and they may decide that too much cooperation with the city will endanger their independence."
Panhandlers seem to sense the tunnels' ambiguity, often there holding doors open for busy business types who, in another context, might offer a tip. I asked a young women why she chose that spot, wondering if legal vagaries were in mind. They were, if not the letter of law, vague as it is: "The security guards don't hassle you as much here."
Private security firms offer great play to petty tyrants, free "to enforce rules of their own design," Jeffrey Hopkins writes, "with little, if any, accountability." I had a run-in with one, trying to take pictures of PATH signs in the TD Centre (they're backlit on black backgrounds like all TD's signage, dictated by Mies van der Rohe's unbreakable Modernist aesthetic -- making them nearly invisible).
"You can't take pictures in here," he barked. Nothing says so. Nothing says much of anything, but for hours of operation and "No soliciting." But he'd proven my point: the place is privately owned; privately policed. It is ersatz public space.
I was too flustered to say what I now wish I had: "Oh really? Why not?" I'd love to have heard his answer, perhaps exposing the power behind his neat blazered mien, dressed as a friendly "greeter" in some slightly upscale Wal-Mart.
Okay, so you can't take pictures (I had no choice, in the moment, but to take the guy at his word). But, be assured: they're taking pictures of you. If you're ever down there, look up -- to all those dark bubbles set in the ceiling, smaller ones on poles in some stores. Behind each is a security camera.
We are under surveillance nearly everywhere now, "security" a private property right claimed, as ever, by its exercise. Toronto's police chief wants more spycams on public streets; he may get them if he scares enough of us with inflated crime statistics. London, England, with widespread police video surveillance, has in fact seen a rise in crime. Some 40% of people are tracked "for no obvious reason" -- but for being young, or black.
The legal status of video spying is in doubt, possibly violating federal privacy law: one court has ruled it does. Federal privacy commissioner George Radwanski has warned we risk becoming rats in a laboratory maze, saying: "People have a right to go about their business without feeling that their actions are being systematically observed and monitored."
Try telling it to your bank. If they don't agree, take them to court. You've got the time, right? And the money. And lots of lawyers.
Conflicting rights often end up in court. That union did win against Cadillac Fairview: the Supreme Court of Ontario ruled that "the right of workers to meet union organizers is more important than a company's right to protect its private property from trespassers." That was in 1989, the case then five years old.