GAY MARRIAGE GETS LEGAL!
WHAT NOW?
A POSTSCRIPT: AS PROLOGUE
FIRST TIME HERE?
READ ME
A QUICK PREVIEW
JUST MARRIED!
CULTURE WARS
BAN MARRIAGE!
g a y
M A R R I A G E ?

.....
Equality, Dignity,


.....
... & Champagne!

YES? OR NO? OR GO BEYOND:

g e t f r e e

W H A T ?
The final frontier of human rights?
A question of Equality? Dignity? Choice?
A litmus test of liberal goodwill?
DON'T BET YOUR LIFE ON IT
Gay marriage?
Wrong question
---
SHOULD THE STATE BE IN BED WITH YOU?
SHOULD YOUR RIGHTS DEPEND ON YOUR SEX LIFE?
---
g o b e y o n d / g e t f r e e

T H E D E T A I L S

A SPACE FOR INFORMATION, CONVERSATION, FREE TALK, FRESH THOUGHT
& IDEAS FOR ACTION TO GET BEYOND
THE TEDIOUS ISSUE
TO THE REAL ISSUES AFFECTING OUR LIVES
ONGOING (& IRREVERENT) INTERACTIVE AGIT-PROP

Blinded by the rite
Sacred cause? Or savvy con-job?
A brief overview of key points, with links to a few "Quck Leads."

Ideas in play
What's here, ever growing, listed in logical order.
(Not that we have to get linear about it.) Some links
lead to pieces grouped by theme.


C O N T E X T S
( A F E W G O O D I E S )

Spouse touting
From "same-sex-benefit" battles to the "gay marriage" slog,
we've asked stupid questions (& got stupid answers)
-- losing sight of the right one:

What role do we want the state to play in our intimate relationships?

Beyond conjugality
The Law Commission of Canada asks the right question
& comes up with better answers, respecting a varied range of intimate connections.
That's way beyond the media frame of "Gay Marriage Yes or No"
(which is why you likely never got to hear about it).
A brief look, with a link to further details.

Platitude: attitude
Equality? Dignity? Choice? Don't bet on it. Put Bette on it!
And your Bullshit Detector. A look behind the mask of sanctimony:
"Equality" as mere sameness; "Dignity" as My Dignity! -- fuck yours;
& "Choice" limited to Marital Status or No Status. Or no choice at all:
Mandatory Matrimony in common-law.

Myth popularity
What do erstwhile gay radicals gone mainstream
have in common with Sally Field? Like us! Love us! Dump us?... "Acceptance":
Rights played as a numbers game. (You bet your life!)

"Fucking confused "
Gay marriage: Yes? No? Maybe?
Toronto's Xtra! can't get beyond dither.
A look at its working solitudes, with an extensive record
of its editorial disconnentions, 1999-2002.

V O I C E S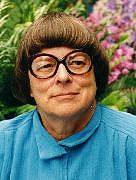 Jane Rule:
An "old lion" roars
against "breaking into the
cage of coupledom"


Passionate sense
Thoughts, going way back, on the wisdom
(or folly) of gay wedding bells.

Rebels with a cause
And a cause without rebels
Lesbian, gay, bi, trans, queer, whatever....
Who are we? Is there a "we"? Does it matter?
Reflections on the world we want.
And the worlds we make.

What you can do
Ways to hear, & ways to get heard.
Contact information & events as I uncover them,
updated regularly.

You can go anywhere
on this site using any link on this page.
To begin at the Introduction click on
"Go Beyond" just above.



---
Rick Bébout © 2002 / 2003
rick@rbebout.com
No permission is required to quote from, print, or distribute
any part of this site that was produced by me, so long as the source is acknowledged.
Credits for images above appear on following pages.
This page: http://www.rbebout.com/getfree/index.htm
Last revised: May 5, 2003 / Postscript added: September 9, 2003