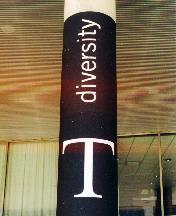 "Our strength"
A pillar of City Hall wrapped in Olympic aspiration (others say "Freedom" "Friendly" & "Spirit"; so much for grammatical consistency). Megacity's new motto: "Diversity our strength."
* In 2001, Statistics Canada recorded 43.7% of the Toronto Census Metropolitan Area's population as foreign-born. (All other figures in this article are from the 1996 census.) The US Census Bureau's 2000 figure for New York City: 24.4% -- lower than Miami, Los Angeles, or Sydney Australia. But higher numbers are often cited by the media. (Source: "City of new faces," The Toronto Star, Jan 22, 2003.)
"The successful world cities, the truly great places to live on this planet, are those able to embrace the world's complexity, make it their own. In this regard places like Sydney or San Francisco or Amsterdam -- or the city where I live, Toronto -- may have something to teach us about civic belonging...."

-- Mark Kingwell: The World We Want:
Virtue, Vice, and the Good Citizen, 2000
"World Class" aside, Toronto is truly a world city. People from all over the world call this place home. Nearly half the residents of its metropolitan area are immigrants -- a higher percentage than even that most historically famed City of Immigrants, New York. *
But then, lots of cities have lots of immigrants. And we're all immigrants really: even First Peoples migrated from Asia. But such truisms obscure experiences distinct to place, lives rooted in particular histories.
To most Canadians, "immigrants" are simply those people who got here after our people did -- their arrival not always welcome. Loyalists landed on Anishnawbe and Senecas; later (less loyal) Americans on them and their British compatriots, most English and Scots, some Irish.
More Irish arrived in the 1840s, fleeing the Potato Famine and English landlords -- finding, if often not easily, landlords and overseers here. Some Germans had come before, William Berczy's settlers cutting Yonge Street up through the bush. More came later: German was long Canada's third (and Toronto's second) language. Around the turn of the (last) century came other Europeans, of a sort famously sought by immigration minister Clifford Sifton:
"A stalwart peasant in a sheepskin coat, born on the soil, whose forefathers have been farmers for ten generations, and a stout wife and a half dozen children is good quality."
Sifton hoped to populate the newly claimed Prairies. Canada's immigration policy, Harold Troper wrote, "has often been unashamedly and economically self serving, and ethnically or racially based." Sifton's "quality" was clearly ranked: British farmers were ideal; Americans too -- not counted as foreign if white. Others less than "good quality" (though acceptable if stalwart) were, in descending order:
"French, Belgians, Dutch, Scandinavians, Swiss, Finns, Russians, Austro Hungarians, Germans, Ukrainians and Poles. Close to the bottom of the list came those who were, in both the public and government's minds, less assimilable and less desirable: eg, Italians, South Slavs, Greeks and Syrians. At the very bottom came Jews, Asians, gypsies and blacks."
From the 1880s until World War One, most of Toronto's immigrants were among those low on that list (with significant exceptions). Few were farmers, many from long settled villages, towns, even cities. Already urban in their ways, they had no dreams of digging sod. They set up shop in cities, some literally. More worked in others' shops -- or built them; roads, bridges, water mains and sewers too.
The great influx after World War Two would bring more of the less desirable if clearly useful: many Italians (long Toronto's biggest "ethnic" group); Poles; Slavs; Greeks; Macedonians; Portuguese. But very few Asians, Jews, or blacks.
Chinese men had been useful: 15,000 helped carve the Canadian Pacific Railway through the Rockies, "coolies" given the most dangerous work; for every mile built, one died. But Canada could do without their families: after 1885 a head tax stemmed the Chinese tide. In 1923 came the Chinese Exclusion Act -- keeping them out, and keeping those already here from becoming citizens. It was in force for 44 years, repealed only in 1947.
Jews fleeing the pogroms of Eastern Europe had come in great number from 1880 to 1914, the shtetel transplanted to The Ward and Kensington Market. Those later fleeing the Nazis fared less well: the US admitted nearly a quarter million, the UK 85,000; South American countries up to 40,000 each; China 25,000. Canada let in 4,000, only a few during the war. Asked how many might be welcomed once it was over, a senior government official said (off the record): "None is too many."
Black people were in Canada at its beginnings, most in slavery. A 1784 census of Quebec (including what is now Ontario) counted 304 slaves. There were more in Nova Scotia, and many black freemen. But most came later and in bondage, 2,000 carted up with the Loyalists. Slavery was legal in all 13 colonies, and the US states they became, until Massachusetts outlawed it in 1793.
In that same year Upper Canada banned importation of slaves: any who arrived were deemed free. But those already here were not. Simcoe had hoped to abolish slavery, but only "so far as same may gradually be done without violating private property." Some local gentry owned people and wanted to keep them: labour was in short supply -- and why pay for what you can force by right of property?
They settled on emancipation by attrition: living slaves remained private property; their children would be freed at age 25, only their grandchildren born free.
Slaves could still be bought and sold. An ad of 1810 offered a woman for 1,200 York shillings, her son for 2,000 -- steep even for the highest gentry: Peter Russell, Simcoe's slave-owning successor, earned 6,400 a year (he asked for a raise; it was refused). The institution was not, locally, economical; soon it was seen as unfashionable. When the British Empire abolished slavery in 1834, nearly all black Upper Canadians already were, officially, free.
They were joined by 30,000 escaping slavery, some as early as the 1780s but most on the Underground Railroad after 1840, when the US Fugitive Slave Act made it a crime to harbour them even in non-slave northern states. Some stayed. But with Emancipation, defeat of the South in 1865, and Reconstruction promising new roles (for a time), many went back.
Canada fondly recalls its role as the promised land of sanctuary and freedom, if often content to forget the lives of those it sheltered -- let alone the people it once enslaved. Their descendants, whatever their daily realities, were happily seen as free. And few.
For more than a century few more arrived. The nation's gatekeepers would, for years, still measure human quality by the colour of skin; by who would, or would not, "fit in."
Surprising ourselves
"If I were a traveller out of a Black Hole somewhere & had time for only a single metropolis before the rocket left again, I think I might well choose ... the city of Toronto.
"There is no pretending it is the most beautiful of towns, ... it has hardly acquired the rich patina of antiquity, but in the last decades of the 20th century it has become in many ways a microcosm of its time."
-- Jan Morris, 1988 --

The 1960s had heard load roars against racial bias everywhere, from the American South (and North) to South Africa; 1966 had seen "White Australia" opened (at least officially) to Asians. In Canada the children of immigrants had become a force, not forgetful of discrimination they themselves had faced.

Change came, like all social change growing not from kind hearts in power, but pressed on them by people who had seen power abused. Since 1967 Canada has, at least formally, accepted immigrants "without discrimination on the grounds of ethnicity or geographic region" (or, since 1978, sexual orientation -- a change first proposed in 1966).

The census of 1951 showed just 10,000 people of "Asiatic origin" in the Toronto area; by 1971 there were 70,000. In 1996 the Chinese alone numbered 360,000, the same number of "South Asian origin" -- from Pakistan, Sri Lanka, Bangla Desh; 100,000 born in India. There are more than 100,000 Filipinos.

The region's second language is Chinese, Italian third, fourth Portuguese. Tamil and Tagalog outrank Greek; more people speak Urdu, Gujarati or Punjabi than do Polish. Of the hundred mother tongues here, English still ranks first at 60 percent, Canada's other official language ninth. Some 200,000 know neither English nor French.

Nearly 35 percent of us belong to what Statistics Canada calls "visible minorities" (the figure for all of Canada: 11 percent). A fifth, about seven percent of the entire population, are listed as "Black" -- a word not carrying here the singular social meaning often assumed (if wrongly) in the USA. Some have Canadian roots going back centuries; most others are Caribbean. Nearly 100,000 were born in Africa.

Somalis are not Jamaicans; Bengalis, dark-skinned, are South Asian. But all may find themselves typecast -- by police, the media, and beyond -- as "black."