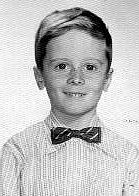 A VERY GOOD BOY
Me: 1st grade, 6 years old; my only school photo without glasses

BÉBOUT? BEBOUT?
(How about Beebout?)
I grew up getting Beeboo & Beebalt. Moving to Canada I added the accent: may as well go for French. It's not. On a trip in 1975, looking myself up at the Boston Public Library (I'd edited a book), I found instead The Bebout Family in Flanders & North America, back to New Amsterdam, 1690.

Not that my hillbilly ancestors knew. T'was the Titus family more into its tree; Aunt Jeanette traced it to late 18th century Vermont. Ironic to find the Bebouts beat them (as far we know) by 100 years. Not that it matters.

My parents did find it odd, here, being called Mr & Mrs Bayboo. But change was in keeping: my father's father & brothers Beebouts; an uncle, Beabout. Appalachian record keeping, I guess.


TAWDRY?
A rail town, bound to be in part. Town Hall, tracks in front, Main Street's south side not yet built. Across the tracks, St Andrew's: not the white church, gone in my time, but right, small & of stone, barely visible here
ACCIDENTAL HISTORY
These shots & others below are cards from the Ayer Variety Store, none dated, looking turn of the (last) century, found in the '70s by Bill Rowe, a friend fond of old cards. As you'll see, also of old photos -- & what he could make of them.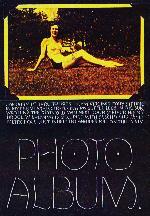 VIRGINIA FAHY (NOT)
Natalie Pierce, gal pal to Ellie Titus; later Mrs Ray Hyde

LIFE LIFTED
Bill got to know my family, visited (mostly for brother Gary), & got into old family photos. His caption to this one:

"January 1st thru 7th 1975 [the photo likely 1947]: Hi, I'm Virginia Fahy, sitting in my front yard stretching my supple legs in the sun, watching the dirty old man next door (Arthur Hack) drool. Wilhelmina is occupied with Sasha. Janet Metropole just inherited another million. This is my PHOTO ALBUM."

He sent it with a note: "Hope Paree was tres tres" -- so it must have been 1978, the only time I was ever in Paris. Natalie Hyde, she & Ellie still friends, died in Sept 2001.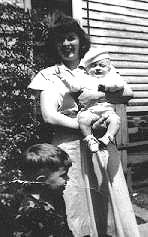 TITUS KIDS
Ellie at 22, May 1950, at 43 Grove Street with me & cousin Skippy Loomer; with Alfred Titus & Nancy Finnegan just four grandkids then, 32 more to come

An American Education
Ayer, Massachusetts
Old New England (if not quite)
I grew up marked for academic success. Classically. I was a serious, chubby (if starting skinny) little A student, sober, responsible; always a Very Good Boy. That may (we've since been told by some sociologist) have had something to do with growing up an eldest child.
Or in my case eldest to survive, my sister Linda dead at four months. She's buried in West Virginia. That's where my parents lived then, among my father's family -- if returning to my mother's in the town where they met: Ayer, Massachusetts.
Eloise Ruth Titus had grown up there; Richard L Bebout arrived courtesy of the US Army, posted to nearby Fort Devens. (The L: Loraine, not an odd boy's name then in his parts, but he liked to say it stood for "Lover," born Valentine's Day 1929.) They had first connected by phone, both operators, he at the fort, she with New England Telephone and Telegraph. They talked for two weeks before either knew what the other looked like.
That came at the Ayer Playhouse, former church I think, turned silver painted movie palace (now long gone). Ellie was there with the girls. On the screen something came up about phone operators, promo maybe, or a newsreel; they all laughed. Behind, a row of GIs laughed too. She turned to check them out, one a handsome blond, hair swept up and back, a rise and a dip (he'd keep the look all his life), strong featured.
"Real cute," she thought (offering details just now on the phone; I'd asked), "I hope that's him." She called; he confirmed. They went sledding, Ellie in a green snowsuit Dick found cute. (She said today: "I was just 98 pounds.") They married on June 4, 1948, she 21, he 19; left for his home town but came back, to hers.
I arrived on January 11, 1950.
In 1952 we (by then including my sister Debbie, brother Bill due in November), moved from an apartment on East Main to a $9,000 "starter home" at 9 Birch Street, off Sandy Pond Road in Ayer's sandy birch and pine east end.
Many houses there dated from the same time, a minor sub division -- full of kids -- on two parallel streets dead ending at the tracks of the Boston and Maine Railroad. Ours, the last on Birch, sat within yards of the roar: it was a B&M main line. Local branch lines laced the town.
Ayer had been born of the railroad, South Groton Junction (Groton proper just north, founded 1655) carving itself off as a town on its own -- with the beneficent aid of a Lowell industrialist, for whom it would be named -- in 1871.
"A tawdry place," I called Ayer in Promiscuous Affections, compared to the much older, more classically "New England" towns it sat so oddly among. I suspect some relatives may have found that a bit tawdry of me. It's time I gave that town, still theirs, its due.
All rail towns have grimy, slapdash bits, shaped for trade on dusty grey stretches of ground. The Brown kids from Harvard just south -- one of those classic white churched, green commoned, general stored towns (our Loomer cousins, Carl and Jeanette's Skippy and Keith, there too) -- thought of Ayer, with all of 4,000 civilian souls, as a city.
It did have what we called "downtown" (or, depending, "uptown") -- Main Street, built up mostly in the 19th century on a short stretch of Route 110. It came in as East Main Street, rising to cross a rail overpass flanked in green steel arches, curving down (a rather grand entrance, actually) past Columbia Avenue, Washington, Pleasant and West Streets, all rising north.
Main Street's short vista terminated with a great grey box, maybe four storeys: the Hotel Lincoln, just past a little used level crossing. There it dipped down, on the left to Mill Street, to the right becoming West Main, route to Fort Devens.
And, a sweep north: Route 111; Park Street downtown, forking to become Groton and Fitchburg Roads. At the end of each school day we were sorted for busses, Principal Mrs Downing calling out: East Main, West Main, Sandy Pond, Fitchburg Road.
The north side of Main Street had been developed first, the south later on narrow land flanking the tracks, the station there. Across the tracks was East Main, having headed off on a jog at that rise up to the bridge. South of it were a huge tannery and a rope factory -- both gone, I think in 1961, to a spectacular blaze that took half a dozen houses as well. Neither plant was rebuilt; many jobs (my Uncle Jerry Finnegan's among them) went elsewhere.
Ayer even had a subway. Or so we called it: a passenger tunnel under the tracks, from Main to East Main. I knew it well, the route to church, St Andrew's Episcopal.
All those tracks traversed what had been and mostly still was pleasant, green, water laced land. Coming in from the east the Boston and Maine passed south of Sandy Pond, created by damming I think: it was nearly round. The public beach was there, some nice houses with private ones on its north shore. That part we called "Snobs' Pond."
Not that we were never there. With the Hyde kids -- Stevie, Cliffy, and Cindy -- we were sometimes hosted by their Granny Mildred Pierce (really). We weren't related (if Mildred godmother to some of us) but could seem so: Mrs Hyde, as Natalie Pierce, had since high school been a gal pal of my mother's. Patty O'Kane too, later Pat Simpson; we knew her kids, angelic Mark in particular.
Nat had an aunt often there at another summer house, always with the same trim, clipped woman about the same age. If there was buzz I never heard it.
But then, I wouldn't have. Even "divorce" got spelled, not spoken, in front of the kids. One local boy, a handsome lifeguard at Sandy Pond, did fall victim to whispers swirling after an apparently over eager demonstration of resuscitation, mouth to mouth. Maybe on angel Mark.
Moving west, connected by streams and more sinuous in shape: Flanagan's Pond (I think also called Fletcher's); south under East Main to another pond; south again, beyond the big bowl of the town park, site of July 4th fireworks and the occasional circus, Grove Pond; then one called, variously, Plough Shop or Mill.
My grandparents lived at 43 Grove Street, a two storey house stretching back to what, all attached, were called "the shed" and "the barn." Beyond stretched lawn, to trees touching the crest of the park.
The shed had held the outhouse, if indoors; I'd see it supplanted by a modern bath in the house proper. The barn was not the least agricultural, more a machine shop. Small machines, some very fine, vices with smooth wooden handles, drawers of tools and bits of hardware, all pervaded by the smell of machine oil (and kerosene, a tap tank in the shed).
My grandfather made things. Mathematical games. He invented one called Zeus -- or maybe Zeuz -- prototype of a mechanical lottery board with lots of little slots, sliding doors and pull strings. TOX, a small plastic case with machine drilled pencil holes, paper inside, offering a sort of tic tac toe. And a sign: wooden, cut to an intricate shape that read, at once, both "Gas" and "Oils." We thought that was neat; my brother Bill still has a picture of it.
He had the training, having been a machinist during World War I. And the time: one of those machines had fallen on his head, leaving him with one pupil deformed -- and a pension. On it, in that house, he and Marion (nee Totman, both of Athol, Mass) raised eight kids.
Many grandkids would know the place: its second floor with no hallway, bedrooms linked in a row; the grey wooden benches on the lawn, along which we bowled: shiny ball bearings rolled at small pins set exactly as indicated, a circle for each in an orange triangle painted at the other end. He had made all that, too.
Ernest Titus was a good grandfather. If, apparently, not always a fabulous father. Stern, remote, hating interruption, he was happier with his toys than his kids. But for his grandchildren that was fine, and he'd mellowed a bit by then.
Marion carried the family, I sensed, and with some cheer. She liked rhymes: "There once was a girl with a pretty little curl, right in the middle of her faw- red [as she said]; when she was good she was very very good, and when she was bad she was haw- red." And: "Why don't you take life by the fetlock? -- so yawh colty don't get out."
She died in 1961, age 65 and exhausted, on a trip to California she hadn't wanted, visiting her son Vernon, wife Gladys and their kids, Alfred her oldest grandchild. We never saw much of them, even visits odd: they were Jehovah's Witness. There were some on my father's side too, if mostly Nazarene; religion can still rift both families.
Most of Ernest and Marion's extended brood lived closer by. The Finnegans, Norma and Jerry, were (until the tannery fire) just over on Third Street, with Nancy and David. Nancy danced, and well; I recall talk of her auditioning for The Rockettes. She'd later have her own dance studio, in Burlington, Vermont; now she's in Hawaii.
David, very handsome, became a model -- once even on an AIDS education poster I'd know quite well. He wasn't gay (just a model); he married a girl from Ecuador, and lives there. Later there'd be baby brother Peter Finnegan.
You'll see more of the brood. We were rather a big one.
North of Main Street the land was deciduous, hilly, even dramatically so: Snake Hill bulged with granite outcrops. All over this part of Massachusetts the ground was broken by great bare humps, like whales backs rising from earth, not sea.
But east of town the land flattened out, to that sandy birch and pine. Set at the shift of topography, as if to mark it, was a rotary circle met by East Main, Sandy Pond Road, and Littleton Road heading east, to Littleton. East and West were also linked, north of the tracks and more pond, by Central Avenue.
Aunt Alice and Uncle Jerry Millson were at its east end, where it converged with Sandy Pond Road. At first in a little green trailer; I stayed there with them briefly in 1955, my mother off birthing Gary. It sat off the driveway to Jerry's parents' small yellow house, his and Alice's a-building, to become 164 Central Avenue. I'd know it well, babysitting Cindy, Clark, and Glenn.
Alice and Jerry still live there, Cindy just behind in a new house where George and Laura Millson's once stood, Laura there for a very long time. Cindy has shared not only her father's turf but his profession, teaching. (He was also a principal, at Fort Devens, and on Ayer's school board.)
The next generation too, Cindy's kids, are growing up on the same ancestral land.
South off the rotary circle was Harvard Road. It led not only to Harvard but to more of the Fort. In fact, while dominating Ayer, Fort Devens -- bigger in land mass, five times bigger in population -- was mostly in Harvard, running down past its village of Still River.
If the railroad had made Ayer, the US Army, since World War I, had shaped its destiny, its economy, even its architecture.
Most of the town was frame and clapboard, some very nice in white, yellows, light blues. Its official buildings (but for those Ayer family bequests, the town hall and library, slightly "Gothic" late 19th century and later, beautifully balanced, classical) were mostly red brick, some with cupolas; Federal Style I guess it's called, like the halls of Harvard (University, in Cambridge) seen from the River Charles.
Even the North Middlesex District Courthouse, built across from the library just after I left, remains true, perhaps by default, to the look of official New England.
But just east of the rotary circle was a dun coloured carbuncle: Devenscrest, off the Fort but not looking it. The regimental rows of drab military housing there were "family quarters," not barracks, but just as uniform. Just as one might see in Camp Drum, New York; Stuttgart, West Germany; Okinawa; Guam. I'd go to school with many kids who had.
It was the Fort, not just the old Boston and Maine, that could make Ayer feel tawdry: young men roving in Army fatigues, strangers far from home looking for what fun they might find in this strange little town -- there in no small part to offer it.
One haunt was the Nashoba Club, near the downtown end of Central Avenue. Its pizza was renowned: crisp, fragrant with oregano and bubbling browned mozzarella; I've not since found a slice to top it.
Among its fans were Jane Rule and Helen Sonthoff, coming in from Concord, where they taught at its Academy in 1954. Helen could fend off any GI's moves on Jane, then 23, with no effort at all (she'd hardly have been interested): they figured Helen, though just 15 years older, was her mother.
I didn't know that then, of course, Jane and Helen great friends to me well after I was four years old. But I do recall the Nashoba Club, and that pizza, when I was 15. My father took me once, after a school performance of Camelot (we did great shows in school, as you'll see) -- still in makeup as Squire Dap. No one seemed to notice.
We didn't need to be in the Nashoba Club to see GIs. They were all over town, once a month especially, on Army payday. Boys in buzzcuts: young, fit, bored; some geeky, some bold (even some geeks bold). And, of course, horny. And in a hurry.
Not that I ever did anything but look. I did meet one -- if many years later: David Morris, a lovely man then at Boston's Gay Community News who'd been stationed at Fort Devens when he was 22. He told me his military education had (if informally) included the finer points of cruising public cans.
I'd have been 14 at the time. I do wish he'd found me (if not in a loo). But no, even in 1983, we didn't do it.
Next: Local gentry: In the land of noblesse oblige
Go back to An American Education / Introduction
---
This page: http://www.rbebout.com/me/ayer.htm
February 2001 / Last revised: October 5, 2001
Rick Bébout © 2001 / rick@rbebout.com