Promiscuous
Affections
A Life in The Bar, 1969-2000
1996-1999:
Looking backwards
(to look beyond)
The scene now
(or some of it)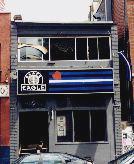 Historic address: 457 Church.
The Melody Room & home of Two in the '60s; since Together, Tanks, The Bulldog, now The Black Eagle -- if to me always The 457.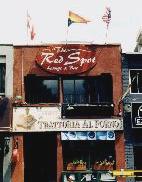 Former bears' lair:
459 Church, The Eagle upstairs 'til it moved next door in '97; now a (Red) spot for comedy.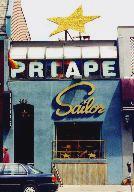 Hey sailor, feeling priapic?
Sailor, annex to Woody's next door, opened in '94; above, Priape, branch of a Montreal sex toy shop.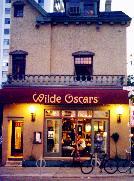 Obviously...
518 Church, opened as Pints, made gay by its clientele.


Trax redux?
72 Carlton, once Studio II, now Zipperz -- & a piano too.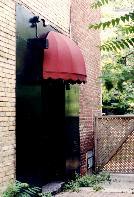 Back to the future:
Buddy's, '78 - '87; of late The Bijou, busted in Jun '99.
Remington's & The Bijou
Raids (?) of the '90s
The Feb 19, 1996 Remington's bust was ordered by the former morality squad, based in suburban Don Mills; local 52 Division cops, by now inured to more subtle community policing, seemed embarrassed to be there. Later even the police commission would blush.
About 200 people met at Buddies in Bad Times; that led to creation of The February 19th Defence Committee (as the 1978 Barracks raid generated defence first named for its date, December 9th).
Energy flagged as the case dragged through years of court dates, not resolved until 1999. That July, charges were dropped against dancers & patrons; on Dec 13 one of the bar's two managers was convicted of keeping a common bawdy house, the other acquitted. Owner George Pratt covered his staff's legal costs.
On Jun 13, 1999 two plainclothes cops at The Bijou on a routine booze scan saw men having sex & charged 8 with indecency. Two nights later they came back to serve owner Craig Anderson for a liquor violation, charging 4 more patrons. Seven others were busted on a Jul 1 visit. No one was taken into custody.
Xtra jumped all over the story, with a 4 pg "News Flash!" Jun 25; some 20 stories & an editorial on it over the next three months -- all calling the police actions "raids." Another defence group, the June 13th Committee, was born.
Rumours that charges would be dropped -- getting the Toronto Sun in a lather about gays getting "special treatment" (& giving their writers salacious slurps at the slurp ramp) -- turned out true.
The other local gay rag, fab, didn't cover the story, apart from the Sept 9 dropping of charges. But editor John Kennedy popped off on it twice, saying "we're not above the law" & accusing Xtra of trying to create a flap (& generate copy) by "referring to the routine police inspections as 'raids'," calling up images of (nonexistent) riot gear, handcuffs & paddy wagons.
Xtra publisher David Walberg called fab a "party paper," saying their "lack of sophistication on the Bijou issue" made him glad they didn't have a "leadership position in the community."
(For Xtra's leadership of late, see Media: Journalistic "ethics" vs real ones, & Citizenship: In the city & on the street.)
The fab / Xtra bitchfest became as much a story as The Bijou itself. John Kennedy got his reward Dec 9, 1999, granted an interview by Toronto's new gay wary police chief Julian Fantino -- he of London's 1994 "kiddie porn ring" that wasn't.
The saga rolls on. The Bijou reopened Dec 31, 1999, equipped with showers, a dry sauna, & lockers, licensed as a bath in the hope, Xtra reported, of "the same hands off treatment the city's 8 other baths seem to enjoy." Police visited again on Jan 11, claimed "to have witnessed fellatio in the pitched out darkness" & laid charges of disorderly conduct.
And in 2000: The Club (again)
Panty raid on "The Pussy Palace"
At 12:45 am, Sept 15, 2000, five cops entered The Club Baths on what they called a routine booze check. The place was operating under a special liquor permit as "The Pussy Palace" -- fourth in a series of popular women's nights organized by, among others, Janet Rowe of ACT.
The cops -- all men -- stayed until 2 am, pounding on cubicle doors & taking women's names. There were no arrests. Community protest was swift. City councillor Kyle Rae called the action a "panty raid" by "rogue cops." The officers involved slapped him with a libel suit, forcing an apology.
Three weeks later two organizers were charged with six liquor violations. The case is still pending -- as are concerns about Julian Fantino. The chief has been cozying up to "respectable homosexuals" -- while letting his rogues run loose on unabashed fags ("Naked Nights" busted at The Barn & The Toolbox), legally nude sunbathers at the "clothing optional" beach on Hanlan's Point, & dykes who've discovered the tubs.
History
The Bar's &amp my own
A change of approach now, as you might guess from that title above, the next few chapters too: not years but themes.
When I began this project in 1998 I meant to end it with 1995: with that year my life in The Bar was over. Effectively: I do go out but not much now, more as diversion than a life. But I might as well say how things have gone since, still here to do it, and to reflect on a few things from years past.
I'll confess: not much has gone on in my life lately beyond the sort of thing you see here: looking back, writing history of various kinds, if careful not to see it as "history" of any definitive sort.
Pink Triangle Press was my last place of employ. Since then I have lived on $1,200 a month, mostly from Canada Pension and topped up by my insurance company, disability benefits both. So, no more agonizing tales of organizational trauma (if later a few reflections on them). My health has been stable if not always fabulous so there's no big medical news, if maybe a few brief bits.
People have died though none too close, certainly none whose dying I lived through for months at a time. When I said in 1994 that I hoped never to go through it again -- even though I knew I would if I had to -- I got my wish: I've not had to. So far. The prospect remains on the horizon: I have lots of friends with HIV. But right now they're doing fine.
There have been no boys beyond passing attractions. Martin's fuck in January 1995 was my last; the strange soi disant Nazi that May the last boy in my bed.
That is, until just a while ago. So: one more bar tale.
Friday, August 19, 2000, to Jane:

I picked up Will at Sneakers three weeks ago yesterday. I'd seen him two nights before, on one of my rare trips to The Barn: a kid in tent baggy pants, a football jersey and cap, standing by the dance floor twirling glow sticks. (They're big at raves.) I liked the look of him, but I just watched and went home.

Then on Thursday there he was, twirling again, at Sneakers. I watched again, trying to connect but for quite a time didn't. Finally he headed toward the front, maybe to leave. I followed -- but he stopped to talk to someone. I sat by the door for a bit, then left. Just a block down Yonge I thought, What the hell? I went back.

He was still there, moved gradually closer in his convivial rovings and then sat next to me (no slouch this boy: he'd noticed all my moves). "So, what are you doing tonight?" he asked. "Oh, I don't know, going home I guess. What are you doing?"

He said with a little smile: "I think you know what I'm doing."
At my place I got a glow stick display -- with sound: he'd brought his own tape, "trance" music, fit score for blue figure eights spinning in the dark, he quite proud of them. The last thing he took off was his hat, asking me to turn up the lights first: he wanted to show me his hair. Blue.
Naked he was more substantial than he'd seemed, not hunky, more subtly succulent; a 19 year old boy at ease with his body ("Wanna see my butt?"). He had a certain knowingness, playful, not cynical; he liked himself, his body, his dick -- and liked me liking them.
I was happy to have (again, at last!) an eager cock pert in my face. "Use your hand again too," he said, "I like how that feels" -- a small insistence on his own pleasure, on himself as more than a sex toy, that made me happier still with the boy that cock belonged to.
"Pert." His cock had somehow called up the word. Later I looked it up.
1. Disrespectfully forward; impertinient; saucy.
2. Of fine appearance, handsome and lively.
Quite apt, for everything about him. In all not a bad find for the first boy I'd bedded in more than five years.

***

Let me bring you up to date, if generally, on other things so far. For The Bar, or now just the bars and other such venues, I'll resort to local listings.

Xtra for a time didn't have a list -- and long ago dropped detailed community group entries in favour of its 925-XTRA extension service, covering the whole metropolitan area, about 300 numbers on offer. They do now have "Bottoms Up: Our Guide to Homo Hangouts" -- in a late 1999 issue, 30 entries.

fab: Toronto's Gay Scene Magazine, a biweekly around since 1994, does list community groups, as well as entertainment venues under four flags (for Toronto; fab also lists sites out of town): Bars & Clubs (46); Sex in the City (baths and video bars; 10); Weekend Brunch (22, if duplicating some bars & clubs); and Second Run Movies (what's on at eight repertory cinemas).

fab lists bars and clubs by area -- Church Street, College Street, Elsewhere -- highlighting the growth of a gay scene on College west of Bathurst (well, more mixed than gay; it doesn't have the original ghetto's huge residential base). It also lists weekly events, much like The Body Politic's Out in the City had done -- still called Out in the City in Xtra 19 years after we first cooked up the name.

So, some details: Still there on Church: The Barn; The Black Eagle (teddy bear and daddy heaven where The 457 was); Woody's; Bar 501; Crews; Sailor; Tango (at Crews, for women; once Ghetto Fag). On College only one place predates 1995: El Convento Rico, a Latin drag bar now getting mostly tourists; for a while they had a branch where The Gasworks used to be, later Vox.

Familiar names elsewhere: Boots (gone by the summer of 2000); Pope Joan; Remington's; Sneakers; The Toolbox; Trax. Some restaurants I've noted remain: Byzantium; The Mango (if of late as Diablo) and beside it Spiral, long there under other names; Slack Alice; The Village Rainbow; Wilde Oscar's (once Pints, now too gay in name).

And Pimblett's -- which I've failed to mention. Oh my. The Queen or maybe the Queen Mum (aka Geoffrey Pimblett) will surely get me for that: it's the oldest eatery of them all and wildly gay from Day One.

***

Then newer places: on Church, Bar Babylon, in an old house near Cawthra Park; Pegasus Billiard Lounge, born at 491, now just next door over PJ Mellon's; The Red Spot, where The Black Eagle was before moving one door down to 457.

On College there are 10 spots, some long there but newly gay friendly, like Cafe Societa and Bar Italia. Lava ("so hip it hurts," fab opined) is run by the same guys who years before opened The Queen Mother and The Rivoli down on Queen West. The Cameron, also on Queen and long an artists' haunt, is listed now too.

Tallulah's Cabaret is in the front of Buddies in Bad Times Theatre at 12 Alexander: "always something queer here." There was Industry way out on King West -- "feel the homo vibe" fab said -- but like many vast rave palaces it wasn't gay in name, just queer (and young) in clientele. Now it's closed.

Zipperz is at 72 Carlton, once Studio II, where Brent Ledger liked to go in 1976. I've been there: it was like being at Trax in 1986, with its eclectic if now aging crowd -- and, again, a piano. On Yonge upstairs from what I knew as the Café New Orleans is Carrington's, "gay jocks and athletic supporters."

At 6 St Joseph the V3 Lounge briefly occupied the townhouse once George's; across the way the long lost Colby's is a club dubbed 5ive -- despite gripes by local residents over yet another dance joint. For a time the door of 11A, once The Manatee, carried a sign warning off those party bound: "No clubs."

Not ever. That venerable site is soon to become -- in an ironically fitting act of "façadomy" -- the early 20th century face of a 21st century condo tower.

***

As for Sex in the City, only The Barracks and The Club remain from the days of the 1981 bath raids, the Romans long gone -- as ever, to condos.

In February 1996 there was another raid -- on one of Remington's "Sperm Attack Mondays," boys not only getting it up on stage but getting it off, shooting into patrons' beers some feared, unlikely as that seems. (I went once, not much fun: too crowded and I felt for the boys, having to thwack away awfully hard).

The bawdy house laws came down again, 19 people charged as keepers, found- ins or inmates, all too familiar, and some dancers for "indecent performance" (a charge I might sometimes have laid myself, if on aesthetic grounds).

There were no prostitution charges -- and no mass arrest. A few other bars known for casual (or contrived) quickies were also visited but not charged. The Barn lost its stalls and "the crate."

In the meantime, even before, we saw new baths: The Spa on Maitland (second floor of the Churwell Centre's south block); The Cellar on Wellesley ("It's dark," so its ads say); the St Marc on Yonge and recently the biggest of all, Spa Excess on Carlton, just east of The Club.

On the laneway at 370 Church -- once the route to Buddy's; later D.I.X., then the Lizard Lounge -- we got The Bijou, a "porno bar." It was dark (same owner as The Cellar) with lots of screens, spots sex friendly and, less casually, "the slurp ramp."

It was a big box with glory holes in its sides, its floor three feet up to put them head high for those lingering below. Gerald Hannon went one night, coming back with tales of men standing there, mouths gaping like dogs begging a bone.

Others would later tell of the slurp ramp -- in the mainstream media, The Bijou visited by cops more than once in summer 1999, making some arrests. The place closed pending approval of its licence as a bath (if, possibly, without any baths).

I'd been to The Bijou only twice -- most gripped by the space itself, trying to place myself there as if in Buddy's. It's much changed but key fixtures (washrooms, a hydrant pipe) remain; where people slurped there was the pool table, all of us perched around it on beer crates, yakking.

Its new incarnation seemed to me the baths with clothes on: tense, grim, almost no talk. I hadn't been tempted, sight unseen, by the slurp ramp, finding it hard to imagine much interest in a dick whose owner I'd not seen. Once I was there I did see, watching men plod up into that box. I was even less tempted then.

***

Much of the scene still feels the same, though more of it seems transitory, less fixed in time, place, style; more eclectic, more diverse -- just like so many young queers who often don't call themselves lesbian or gay anymore (even if, as you've seen, a few can be found at The Barn).

Talking with Dean Odorico and Steve Clegg at Woody's in April 1999, they told me they have to work hard to keep a crowd, or a consistent one, kids there just as happy to head down to "The Entertainment District" (south of Queen West, always mixed) to rave until dawn.

I find that hopeful, given how conventional the Church Street scene can be. But that hopefulness is, I confess, for people and places unseen: I've never been to a rave, a circuit party -- or done Ecstasy.

Mostly for me it's been Sneakers, the soap opera of George's Townhouse refound, even George sometimes among the cast. And Remington's still, but just every few months, more often if I find a boy worth going back for.

In April '99 I did: tall, lanky, spiky blond hair, buck teeth -- Lucas, a chatty boy. He told me he was into electronics, planning college, had a job waiting tables in the burb where he lives, 40 kilometres away. That sounded a story.

In the backroom, three songs. On the last he took my hand from his chest and slid it down, wrapped it around his cock. Rare, that; unknown to me in a first encounter. I nibbled his nipples and he said with his goofy smile, "Oh you don't know what you're doing to me!" I squeezed him, well up now: "Oh, I think I do."

Yes, worth going back for: his gawky ease; his story, I'd barely got it: How did he end up there? I wanted more. I did get a bit, just once, ending again with sweet Lucas stiffening in my hand. "I'm going to kiss your cock goodnight," I said. He giggled, "Be careful!" -- he might have allowed more; Remington's did not. A quick peck and that was that: I never found him again.

But I did find Angel, or so staged named: a boy odd, quirky, magically compelling. He told me he wanted to be an actor -- if already quite a good one. Worth going back for too, and I did -- until the price of private encounters went up to $20 a song.

A bit dear, alas, even for an angel. Will had cost more than twice that, it's true -- if for longer than two songs and he too, in his way, an angel.

***

So that's my life in the bar now, such as it is -- even as I live again in the midst of it all, Remington's and The Barn just a five minute stroll, Church and Wellesley not much further.

When I moved in with Paul Pearce in 1994 I thought I'd never leave, in fact felt I could not: without my rent Paul couldn't cover the mortgage. Rob's rent paying presence changed that, though not right away: Paul's business was seeing bad times, consulting on pay equity and human rights in less demand under the Tories.

For months he fretted without saying much. Over a dinner in October 1995 he fretted out loud, afraid he might have to sell the house. Rob and I assured him we could get through it, but once I left the Press's pay it was harder for me. I could joke that I'd won the lottery -- $1,200 a month for life (well, to age 65, likely not a worry) -- but I was paying most of that in food and rent.

Paul still liked extravagance; we ate tuna steaks at $10 apiece, exotic blossoms on the table sometimes costing as much. I liked all that too, but was tempted to tell him I could no longer afford to keep him in the style to which he was accustomed.

The joke might have been a relief. By then Paul and I rarely talked at length, Rob and I not at all. Both of us had a relationship there -- but not with each other. Ken Popert once said that anyone living with two lovers risked "crowded loneliness." In that big house we were hardly crowded, but by then it was more Paul & Rob's house than mine.

I told Jane I felt "emotional scarcity in the midst of material privilege (a cliché of middle class life!); a friendship I counted on for years gone (for now) to the kind of hermetic coupledom for which, you know well, I have never had much generosity."

***

In February I told Paul we should stop presuming joint dinners. He didn't mind: it was easier not to, given all our varied timetables. He did fret I wouldn't eat right, so stocked the freezer with quick munchies.

In March, for the first time in ages, we did have a good long talk. Business was better (he reduced my rent) but Paul said he would not live house poor: he liked nice things; if the mortgage got in the way he'd sell and find someplace smaller. We agreed that if he did it would be for himself and Rob; I'd go my own way.

He also said that if I got sick he wouldn't be able to take care of me. It was not the pressing prospect it might once have seemed.
Tuesday, April 23, 1996, to Jane:

It was a relief of sorts to have Paul say he wouldn't take care of me. I told him I wouldn't want him to. And it's true. There's too much baggage there, for both of us.

I said in our talk that if I'd stayed at Dundonald Street I'd eventually have had to find someplace cheaper anyway, would probably have looked at housing with rent geared to income, designated for people with HIV, where there are connections to home care when it's needed. I suggested I could still look into that in time.

Still, it does expose the odd psychology of this menage, both Paul and I complicit in it: he would not be alone; I would have a safe place to fade away. When we agreed to it, it seemed to make sense. But that sense was of the moment: David dying at home and soon to be gone. Now Paul is with Rob and really Rob alone. And I'm doing better than even I, two years ago, might have guessed.

I suppose both Paul and I anticipated death as we had known it -- this household based on the premise that we'd know it again in pretty much the same way -- and now life has simply gone on past the moment. Well, so much for satisfying melodrama. I should have known, being such a critic of pat AIDS plot lines.

If this sounds cynical, let me say it's not: I like life going on. I keep getting chances I never thought I'd have. A bit confounding at times, I admit, all these twists on the expected narrative. But out walking yesterday, even in the rain, I took a look around those downtown streets in this town I love so much and said to myself: So, I get to have another go at this, eh? Well good: let's do it.
***


Room with a (happy) view:
My solarium at 177, Shel sometimes grinning down at me.
In 1994, he'd signed that Easter card he gave me: "Love always, Shel."
Always.
I still believe him.
Shel had got back from Vancouver in January, he himself driving an 18 wheel rig half the route from Winnipeg. He went back to work at Colby's (for a while).
Some of this I got from Rick at 177 Mutual. He told me Shel was having dinner with Bill every two weeks or so, his sudden flight forgiven. He was also slowly paying off his debts. "An honourable kid still," I said to Rick. He said to me: "And he adores you."
Shel and Sebastian found a dinky apartment, but soon would find one bigger.
Wednesday, June 26, 1996, to Jane
(with me still at 95 Summerhill):

Shel called on Monday morning. He knows 177 Mutual well, Rick and George still regular connections. Rick had told him a friend of his was moving in but said: Of course you know I can't say who it is (HIV confidentiality). Shel was thrilled to hear (from me) that it was me, his grin more audible than ever. "Oh, that's so cool! I'll be there every day!"

Maybe not, but certainly more often than at Summerhill. He'd hated coming up here, he said, citing an old ghetto joke: "I need oxygen [or, as another version has it, get a nosebleed] whenever I go north of Bloor."
Shel was soon securely south of Bloor, moving into 177 Mutual two weeks after me, Sebastian qualifying (though it had taken Shel some time to tell me Sebby had HIV), he as his partner. In time I'd be able to look up from my solarium to theirs, the building cross shaped.
No obsession this time, just Shel occasionally spotting me and waving down with a big grin.
Wednesday, July 31, 1996, to Jane:

I was here by Monday, July 8, as I said I'd be no matter what shape the place was in. That shape turned out to be lacking a few essentials -- literally including the kitchen sink and even the counter to sink it into. The windows [smashed out by firemen] still hadn't been replaced.

Eddie [Jackson, who'd given me a lift from Summerhill] had to scoot off for a haircut not long after we arrived but came back to become one of my first two guests. The other was Shel. The three of us toasted the place in orange juice -- and then found ourselves called to its defence against a sudden, windy thunderstorm, rain blowing through the non- window. We got garbage bags, taped, tacked, Shel his take charge self coming to my rescue.

Eddie smiled at that, seeing this odd relationship in action.
Once my phone rang at 1:30 am; I let it take a message but, curious, got up to check. "Rick. It's Shel" -- taciturn, not his grinning tone. "I've got to talk to you. When you get your messages in the morning, page me." I did.
He didn't return the page but was soon at my door: the night before someone had come into Colby's to leave him a message, saying a friend of his had died. He'd worried it was me. (In fact it was a dancer named Norman, one I'd always liked.)
Sometimes lying in bed with him (back when I did) if I coughed or sniffed he'd quietly ask, "Are you OK?" In September he moved out on Sebastian (though he'd be back), assuring me then: "Don't worry, I won't be far away."
Once back visiting Sebby, then moved to the apartment directly below mine, Shel warned him not to play loud music -- because it might bother me. I'd never heard a thing.
But in all this I glowed, basking in Shel's protection.
***
Often he was far away, once back in Newfoundland, a brother of his in an accident. He called from there, no money to get home and that time I couldn't help; called again from Montreal hitching his way back. "I just wanted to let you know where I am," he said. "I'll be alright."
In November 1996 he called to thank me for a card I sent him (at Bill's, he'd been back there for a time) marking three years since the day we first met. "I heard it was nice," he said, "but I didn't see it." "Why? Where are you?" "Edmonton."
Later he'd call from Hamilton; later still Oregon, about to head off for Fresno, California -- almost all of it driving big rigs.
He was back in Toronto by June 1997, back living with Sebastian by August, his rig, or part of it, often parked in the service lane under our building. I told Jane about it.
Shel remains an inspiration, if an intermittent one even though he's moved back into the building -- ostensibly to help Sebastian with the rent and keep him from getting turfed. He dropped in the week before last, asking with a grin if I'd heard a truck downstairs. His truck, of course. I went down for a tour (parked): a tractor trailer without the trailer but, tractor alone, it has ten big wheels. Stand by the open door and the seat is head high.

We climbed up and I got a demonstration of every compressed air device on offer (but the horn: too loud to play with); got to see all the licences for various states and provinces; even checked out the sleeping compartment [on the road he lived in it]. Shel, as you might imagine, grinned through it all -- all five foot six of him, in shorts and no shoes, in charge of all this tonnage.

It's rented, the exact financial arrangements unclear to me. But of course he wants to buy one of his own -- about $130,000 for the tractor alone. And who knows? He may yet.
Shel lost that rig in some mess with the trucking company. He move out on Sebby again, but the next year was, for me, much the same: Shel here by surprise; Shel gone, where I'd not know until he called. Then last December he came by, looking for Sebastian but not finding him.
I've seen him a few times since; he's back with Sebastian again last I heard -- so just a floor below me. He's said he might drop up; so far he hasn't, still often out of town driving trucks. But running into him down in the lobby I've got a few nice hugs, and that grin I've always so loved.
***
I don't wait for him, don't presume. I never presumed with Shel. I have at times missed him, surprising myself with a small pang of loss I didn't know was there to feel.
Of all my loves (so called: the most sustained, I mean; the sort most people call love), the most passionate -- no, obsessive, hence unsustainable -- was with Barry; the most lasting with Michael Wade. With Shel? The happiest. The least fraught, because least presumed. The most a gift.
In 1994, he signed that Easter card he gave me: "Love always, Shel." Always. I still believe him.
---
Go on to History: As history / Go back to Contents

This page: http://www.rbebout.com/bar/history1.htm
January 2000 / Last revised: October 8, 2001
Rick Bébout © 2001 / rick@rbebout.com