Promiscuous
Affections
A Life in The Bar, 1969-2000
1987-1991:
Passion


Grace: Norman Hay.
A sketch by Alexander Calder, 1967, both then working on Expo in Montreal.
Ease & refinement of movement; a gift that "operates to regenerate & sanctify, to impart strength to endure trial"; as a verb: "to give pleasure, to gratify, to delight."
Norman never asked, "Why me?" He knew life.
1988
January through March
On New Year's Day 1988, Norman Hay died. It was bone cancer, not AIDS; we could forget that people died of things other than AIDS.
I hadn't seen much of Norman in the last while. In the fall of 1986, after doing exhibits for the Canadian pavilion at Expo 86 in Vancouver, he'd gone off to an island near the coast of Kenya, taking with him work on his biography of Alan Jarvis.
Walking along the beach one night with a friend he slipped off a sea wall, breaking his hip and one arm. He spent a night in a hut on the beach before being flown out to Mombasa.
By 1987 he was back in Toronto. In June Craig Patterson asked him to dinner, with Kevin Orr (he and Craig roommates) and with me. I expected Norman to be on crutches but he was fine, his mending arm just a bit stiff. His resilience was remarkable.
But now he had bladder cancer. Radiation and chemotherapy would check that, but by November it was bone cancer, likely soon terminal.
He later invited me for a visit, asked me to speak at his memorial. He'd been careful to choose people who knew something of his life but were not so close to be too distraught for the task. The others were journalist Robert Fulford and designer Astrid Janson.
Norman wanted me to talk about his life as a gay man. It was no task; as I told him, it was an honour. I did grieve for Norman but was not distraught. His grace remained a joy to the end.
He liked quoting an old friend, society writer DuBarry Campeau, as she was dying: "My dear, I don't have the energy for pity." Norman never asked: Why me? He knew life.
***
At his service, January 15, 1988 in the Music Room at Hart House, I made vague reference to Norman once having caused a fuss writing about etiquette, though most there didn't know he had written "Lust With a Very Proper Stranger."
Bob Fulford may have. At a dinner during that mess, he I think there, Norman had let on that he was Angus MacKenzie. We asked Fulford to testify at our trial. He refused, setting the limits of his liberal tolerance: he had found "Lust" obscene.
I spoke more of Norman's wider role at The Body Politic, this man who'd had a hard life "reminding a bunch of lucky if too sober gay kids of something we knew but had to be reminded of: that life is not awful. It's a joy, a joy to be celebrated."
I had talked with Nick and Paul Hay, Norman's grown sons, about what I might say. I'd told them I could best speak of their father by defining two words. One was "celebration." The other was "grace."
I'd looked it up, cited some definitions: ease and refinement of movement; a gift that "operates to regenerate and sanctify, to impart strength to endure trial"; and, as a verb, "to give pleasure, to gratify, to delight." On Frank O'Hara's grave there is a piece of his poetry: "Grace to be born and live." The rest of that line, as I recall, is: "as variously as possible."
Norman's grace, I said, had shown me "what resolve can make of a life, even as he told me his life was about to end. That he was 63 then, and dying, told me something of how I dearly hope to be at 63. And how I hope to die. Mostly I hope to get to 63."
I was not foreshadowing; I didn't suspect I had anything to foreshadow. Or rather, nothing more than any other gay man.
***
It was in that same room in November 1986 that we had struggled to keep The Body Politic alive. We had failed, it was gone, and now so was the collective that had survived it, feebly, for nearly a year.
In November 1987 its remaining members signed a statement swearing we were "all the members and the only members" of that once venerable body, and assigning "our authority in all matters irrevocably and forever to Pink Triangle Press and its successors."
The language was likely Ken Popert's. The motive certainly was: stuck with running the Press he didn't want to be pestered by any historically privileged if otherwise unburdened gadflies. Some of us stayed on as members of the Press's board of directors. But the board never gave Ken any trouble: he was its ex officio president and set its agenda.
Our declaration was set to take effect on adjournment of the Press's next annual meeting. At 3:05 pm on December 6, 1987, the collective, too, was dead.
***


Habitual history:
South St Lawrence Market (1904, engulfing the city hall of 1844; Saturday farmers' market north across the street; the site a market since 1802). A routine destination for David & Paul.
David Newcome was in Sunnybrook Hospital until late November 1987. He had a bit of sight left when he got out and he and Paul tried to get back to their normal routines.
For years they had gone to the St Lawrence Market on Saturday mornings when, from 5:00 am and since 1802, farmers were there with their produce. They went, as usual, in December. After the first trip Paul told me he dreaded going again, hating the needed caution, the guiding, the stares.
But they would go, for years more, and all that too would become routine. David was a creature of routine, famously dogged; he wasn't about to let blindness stop him. He was otherwise in good shape and would long stay that way.
Once at dinner, early on, he sat back and said, "There, it's all dark now. That feels good." He'd been having ghost vision, patches of light, but soon the darkness was total. We learned to guide him through dinners, using the hands of the clock to tell him where things were on his plate. We learned not to move anything from the place he recalled leaving it. In time we learned to do sighted guide, easy once we knew not to try dragging him around.
For all this David was grateful -- he was also famously polite -- but not so much as for the things he could still do on his own, or learn to: memorize the buttons on the TV remote control (he still said he "watched" TV); pour a Coke (everybody else did it wrong: it was Coke first, ice second, so it didn't lose the fizz); light a cigarette (gauging the end with his fingers).
A counsellor from the Canadian National Institute for the Blind came to teach him how to negotiate with a white cane. He learned it in half the usual training time, soon comfortable out on the streets by himself. He'd been doing computer programming in his job; at the CNIB he trained on a talking computer.
Later I'd do a small fundraising drive among his friends to buy him one of his own. Its flat, robotic voice became quite familiar. So life went on and even Paul, more fearful than David, soon found new routines normal, not odd.
***
Once in a quandary, Barry fled -- if only for a night, to Buffalo. Some months later I'd remind Randy of it.
"Oh yeah, he told me something like that," Randy said, "but I knew he was lying." Lovers can come to expect lies. Randy did: by then he was Barry's lover.
A few weeks before Christmas I had called Paul for advice in one of his prime areas of expertise: wine.
"What would go with rabbit?" I asked. "You want something fruity, spicy," he said, "not too dry. Alsatian: Gewurtztraminer; '83 was a big year and it's still fine. Or '85."
The request was for a wine to bring Barry. He had invited me to dinner. His mother had sent the rabbit, in a Mason jar: jugged hare I suppose. It was fine and so was Barry. The next morning -- in his kitchen, as if I'd not got enough of him in bed the night before -- I undid his bathrobe and went down on him.
Just after Christmas I saw Barry at The Barn with a cute, perky little guy. Later he told me about him: his name was Randy; they'd met earlier in the month at Rogues.
I was seeing less of Barry. He was on rotating shifts, working out in Pickering at a group home for "difficult" kids. He once came back from a shift with a black eye. "You should see the kid," he said. "I made him eat the carpet."
This thing with Randy was likely nothing, I thought, and after all we didn't own each other.
***
But I did begin to fret. On January 2 we had an odd talk on the phone. What was up I wasn't sure; I fretted more.
I called him at work two days later -- I'd never done that before -- asking him to come see me. He did. Our relationship seemed much as it always had: unnamed but real.
I wasn't sure he'd want to stay that night. I asked. "Of course I want to!" he said. "I may be a Newf but I'm not stupid. I just wasn't sure you'd want me to." I certainly did. The night was easy passion, an ease I feared we might have lost.
On the earlier night of that odd phone call -- I'd learn he made it from Randy's -- Barry had got into his Chevette (a feeble thing though it had got him here from The Rock; he called it the "Shove It") and driven to Buffalo. He did a few bars, slept in the car and then drove back. He had told Randy he didn't want to leave me -- and then he fled, if temporarily.
He told me this later. I'd liked to have known sooner but, as he said, "If you're going to run away, you don't tell someone you're going to."
Some months later I'd tell Randy that story. "Oh yeah, he told me something like that," Randy said, "but I knew he was lying."
Maybe he had been, but I doubted it. I'd not for a moment thought Barry would lie to me. But then, I wasn't his lover. Lovers can come to expect lies. Randy did. By then he was Barry's lover.
***
"If I ever fall in love, I'll tell you." In early February we had a date set for 7 pm on a Monday. That day, at 2:30 in the afternoon, he showed up at the office. He said we had to talk.
We went back to my place, and he told me. It had taken him a while, though that was Barry, too: he didn't lie, but he could ponder for quite a time how to tell the truth. It was not a surprise to me, really; we got all that out of the way in an hour.
Then there were four more hours. "Buy me a beer?" he'd said, as always, and from there it was much as always.
"This is what I love with you, Ricky," he said, calling me by name more often than he ever had and now -- now that it was safe -- saying he loved me. One other thing was different, too: at the end of that evening he was in Randy's bed, not mine. I wrote to Jane on February 27:
The real quandary for me is in what he has chosen -- convention: a relationship he can name, with someone who wants to know where he is all the time, who nags him, wants to show him off to his friends as the new lover, who is desperate for his fidelity. (Their monogamy, though, Barry says he himself wants, must try, even though the sex is only "passable": Randy doesn't like getting fucked, and Barry, once to my joy and now to his frustration, loves to fuck.)

And all this is happening to a man I know as independent, insisting on himself, hating the idea of himself as a mere attachment to anyone.
Once, in their apartment (or rather Randy's; Barry had moved in but, as I'd later see, almost nothing there was his), off to swim in their building's pool, Barry put on a tiny Speedo. Randy barked: "You are not leaving here in that." They lived at The Village Green, full of gay men, likely competition a worry.
Randy would later ban Barry from dinners with me at Paul and David's. Or rather, he'd say Barry couldn't go without him: they were a couple. He even wanted a joint bank account.
I don't think Barry gave in to that last demand, but to nearly all the others he did. Why I wasn't sure.
***
In March I saw Barry by chance, out the window of the Café New Orleans. We waved; he came in. "So how's married life?" I asked, my tone not too snide. "I'm not always happy with it. But it's good. I know it's good."
Where, I wondered, had that definition of "good" come from? I suspected he was testing himself, trying to see how much he could give up -- for goodness's sake -- and still be Barry.
He once joked that Randy was "everything I never wanted." Now he did, and what he suddenly wanted I could not have been: an "Average Joe" (Barry's term) with furniture and a career and a cat. Barry hated the cat. But he did love Randy.
I still loved Barry, still -- deeply -- wanted sex with him. But that was off. I scenarized obsessively about him, so much so that if I slept on it I had to struggle in the morning to realize that what was in my head, the pretexts, the scripts, had not actually happened.
One script was set at The Barn, where I was to go the next night with Kevin Orr. It had me finding Barry there with Randy -- because now I could never find him without Randy. Kevin and I got to The Barn only at midnight as it turned out, and Barry & Randy did not show up. But I watched for Them until well past last call and only then relaxed.
Once I did spot Them at Trax; I turned on my heels and fled. Later I wouldn't, sometimes joining them. Randy was alright, really -- for an "Average Joe." And I did think he was kind of cute.
***
Still, for years, I didn't lose my passion for Barry. If you think I've gone on a bit much about him here, you should see what Jane Rule had to deal with in my letters.
In early January, when things were first coming apart, she'd got this -- my obsession at least mildly diverted by other attractions.
On the night after Barry's messy call I went to The Barn (trying to call him a few times from there, anticipating seeing him, hoping to, hoping not to) and found myself near the door.

A compact, handsome man said hello -- and then turned away but did not move away. So I put my hand on his shoulder and said, "Now why did you say hello and then turn away?" Not accusing; sensing something. He said: "Because I'm not in good shape right now." A friend had just died, and he'd just been fired from his job as a DJ in another bar. I told him I wasn't in good shape either. There was Norman gone -- and, I feared, Barry gone.

And there, in the midst of people traffic as things got busier, we stood together, and we cried. And he took me home and we cried more and had wonderful sex twice and he wanted me to talk as dirty as I could to him, to tell him that, right then and there, I wanted him. And I did.

In the morning he got up only to call his regular place of work and say he'd be off today for a funeral. And I left him in bed.

A few nights later I ran into Roger. I went home with him once about two years ago -- and we had talked in his kitchen and he'd then decided he was going to bed alone. I see him dancing at The Barn a lot and (despite that night? because of it?) always like seeing him.

I found him at the corner of the dance floor, alone, leaned a kiss into his neck and said I hoped I'd see him dance. He's a man with a cock reputed to be so big that even he jokes about it. Later he found me and said: "Why am I so afraid of people?"

We talked and I knew he wasn't afraid of me. He did dance and I watched and realized how good it was to love this man just like that right then. He got his coat and I gave him a hug and he left.

Before that, the same night, it had been a man named Michael, small, always a worried sort and one I've known casually for years. He told me he had been having fevers. I joked lightly, suspecting hypochondria, asking how his glands were.

He said, "Well, I'm on AZT now..." -- and this is the first I know of this man having AIDS.
***
I had rehearsed having AIDS. I suspect many gay men did. I would try to be brave; I would not seek pity; I would wash out the toilet with Javex.
That last proved unnecessary. More grand aspirations came to be superfluous. I could be no lone hero: all around me were people with HIV & AIDS.
On Tuesday, February 16, I saw my doctor Philip Berger for a routine STD check. On Wednesday he called to tell me the lab had alerted him about my white cell count, very low, as low as during that mysterious infection in late 1982. I went back in and we discussed more tests.
Philip likes laying out options, explaining each one and letting his patients decide. Mine were a T4 / T8 ratio test, an HIV antibody test, or a bone marrow biopsy. I chose the first. The results were terrible. Then I did the HIV test.
At the time you had to go to a special clinic, the blood sent off to the University Hospital in London, one of only two places in the province equipped to do the analysis.
I was told the results would take three weeks, but even then they seemed to me a foregone conclusion. They came back in just 10 days, positive.
Even then Philip and I couldn't make a connection to my state in 1982. That would come later, when there were enough case histories available to show a pattern: an undiagnosed, mono like condition in many people who, years later, developed AIDS. We assumed by then that what I'd had was what came to be called Acute (or Initial) HIV Infection.
Now, with a T cell count a shade under 200, I had AIDS. At least by that one clinical definition, a new one. I'd not had (and, as I write this more than 17 years later, still have not had) any of the usual opportunistic diseases then cited as "markers" for AIDS.
***
The last time I'd seen Barry before Philip's Wednesday call, we'd agreed to give each other some time off. I tried to honour that, but I didn't.
I called him the next Friday, 4 pm; he was with me by 7:00 and only the balky Shove It had delayed him that long. I didn't have the HIV results, but told him they would likely be no surprise. He said he would stick by me through it all, whatever it was.
And he did, for years. I wasn't inside his castle of coupledom, but when he could he'd escape the fortress to be with me.
Still no sex -- though he wasn't afraid of HIV. On our first night I'd rolled a rubber onto him, his first he later told me. We, and each of us with other men, had used them ever since. But there was Randy, and attempted monogamy.
Despite that, though, I knew now that I was still in Barry's life. In that moment and many more later, I was very glad to be there.
***
I had rehearsed having AIDS. I suspect many gay men did, ever since Peter Evans provided the first local role model. I would try to be brave; I would not seek pity; I would wash out the toilet with Javex.
That last proved unnecessary; more grand aspirations superfluous. I could be no lone hero: all around me were people with HIV and AIDS.
Some did seek sanctification, taking smarmy pity as proof they'd ascended to it. But most were brave, if not in any self consciously noble way. The best (and worst) AIDS jokes came from people with AIDS.
Once past the initial shock (I did in a funk wonder if I should bother buying a pocket calendar for 1989; I recall that with each new one, 2000's bought last week), what they wanted was to get on with life, even if maybe not a long one. Life now included an infection, for many a manageable one.
AIDS, once so rare and strange, was for many of us something else now, in a way even more strange. It had become normal.
***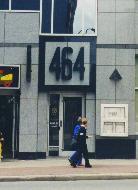 More space, more steps:
ACT's office at 464 Yonge, 1987 - 92. Inside that door: the damn stairs; later a damn chair lift. There in 1999 (way too late): an elevator.
In late 1987 the AIDS Committee of Toronto had moved to new digs at 464 Yonge Street. A door there led to a long set of stairs; at the top were two other doors, left and right.
ACT, at first, was to the left, the south wing of a U shaped space, its base anchored by that main stairway. They also had the north wing but sublet it until more room was needed.
In its own space there were more stairs. The washrooms were cramped. Even after an expensive (and embarrassing) chairlift went in on that long flight from the door, the place was barely accessible to anyone infirm or in a wheelchair.
It had been a radio station, studios at the back windowless but for double glazed panels between them. Two became meeting rooms, one the smoking room, the last a computer room.
ACT could hardly afford a machine on every desk so it had to be, as it long was among mainframe geeks, one room where the computers lived, people working there or on remote terminals. We were a long way from a network so it was just that room, only two machines there at first.
I was there endlessly, processing donations and writing programs so others could do that work. I'd hoped to make the programs not just user friendly but user flirtatious. ("Hi there. So what's your name?" Capture response as variable X. If X equals any X in user database, then: "Oh, X! Haven't I seen you here before?" But it never got quite that far....)
***
The window from that room looked into the smoking room. There at night, when I was often there, were people taking breaks from ACT's various support groups.
Almost all were gay men, almost all had AIDS. I'd often join them. It was there I found what wonders most (if not all) could be, these people I might otherwise not have known.
My favourite then I did know, slightly. Tom McAllister was dark haired, bright blue eyed, a sparkling Celtic beauty. I'd once chatted him up at Chaps and even walked him home; I got a kiss goodnight at his door. That was 1985, I think, and that was that then -- but here he was now, full of delicious energy.
He once burst into the office gleefully booming that he was off to Germany "to get cured" by some new treatment. He did go; it didn't work. Tommy died in November 1988, age 24.
***
By March 1988 ACT's north wing had regular tenants: Pink Triangle Press in just a few rooms at the front; the Canadian Gay Archives at the back. They had left Wolseley Street at the beginning of that month.
Walker Communications once planned to go with them, but the proximity had become a drain on Merv's business. Press staff often took advantage of his resources, now greater than theirs. Merv's company had bought PTP's latest typesetting machine, a $100,000 beauty, the first on which we could do page layouts on screen. He also owned the lease on the photocopier.
Wisely, he decided to move elsewhere, to a huge complex of loft buildings at King and Dufferin, far west of downtown. One had been a carpet factory. Now they were offices and artists studios: this, in part, is where the Queen Street crowd had gone.
At 464 Yonge Xtra was produced on Macintosh computers, their desktop publishing programs not yet sophisticated. For quite a while it looked awful.
I didn't mourn Wolseley. I was there on its last day, the Press and the Archives gone, the main door taken off to ease stuff out. I put it back on and locked it -- on nothing, the place scattered with no more than abandoned detritus. The only nostalgic moment I could call up was watching Robert Mealy help paint the floor there in December 1983, his bum a delight.
That place was, to me, simply where The Body Politic died. Amidst the final rubble were too many of its back issues.
***
Between the Press and the Archives in the north wing of 464 there were other offices, and there one could often find Kevin Orr. He had escaped ACT but not, as he had hoped, AIDS.
The provincial government had got in on AIDS education, Kev hired to advise them. He had many arguments there and did not win them all, but he did keep them from making stupid mistakes.
The Canadian Public Health Association wasn't so blessed, their main promo line "Join the Attack on AIDS." As with the city's "Avoid AIDS," gay men sensed a too easy substitution in some minds of "AIDS" with "fags." A sticker later popular read: "Fight AIDS. Not People with AIDS."
The Press's brief to the Board of Health, delivered in January, got decent response, some of its proposals accepted. The city never did devote one of its quarterly drives to gay men, but in fact all those campaigns were cancelled in deference to provincial efforts.
Later city material did avoid the presumption of an exclusively heterosexual "general public," in advice, and even more so in imagery. We had advised showing one person, or a group -- anything but one man and one woman -- to allow a more open reading of possible sexual orientation(s).
Their later condom posters aimed at teenagers used only one face at a time, all young and appealing. I'd have been more than willing to use a rubber with one of the lovely kids they displayed.
Kevin's main role now was another contract job: co- developer of a pilot project of ACT and Sunnybrook Hospital, the project's office in that north wing. The idea had been Kevin's, picked up at an AIDS conference in Washington in 1986.
Information offered in print wasn't having the desired effect. Even workshops like Hot, Horny and Healthy gave participants little chance to ask questions that fell outside the Fun! Fun! Fun! frame.
It was time to just get gay men together and let them yak in whatever ways they might, and see what happened. It was, in part, a research project. It was called Talking Sex.
***
Blasphemy!
(If oft committed)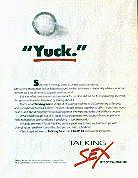 Taking dirty:
Ad I did for Talking Sex, back cover
of Xtra, Jan '88.
In real life, gay men did say such things. Talking Sex wanted to keep them talking. But it took them out of real life to do it.
Still, it was a lot better than giddy "fun & games" tactics.
I did the promo for Talking Sex. The first ad featured a condom -- unpackaged, still rolled, its flabby little tip hanging out -- with one big word under it: "Yuck."
Two other lines: "I was so horny..." (we know where that leads); and "Whatever happened to sex?"
It was all safe sex blasphemy, intentionally so: gay men did say these things. They worked through them (when they did) by literally talking sex. The text of all those pieces carried a hint of congratulation: we were good at it; we had made it work. Mostly. Talking Sex urged us to keep talking, to deal with such quandaries openly, without guilt, and in real life.
But it took gay men out of real life to do it. Talking Sex was more facilitated workshops, if some in people's homes. I once told Kev he was trying to induct gay men into "AIDS culture" -- where we AIDS activist lived -- when what they needed were ways to make AIDS prevention a normal part of gay culture.
I also sensed that Talking Sex had a built in middle class bias. Busboy Martin was a yakker, but hardly of the introspective sort: about anything serious he'd clam up -- so he wouldn't get in trouble. Barry was university educated but his taciturn, proletarian butch reserve reinforced my suspicion that "talking it out" might not work for people whose cultures didn't push group therapy as the panacea for every problem.
Still, Talking Sex was a lot better than giddy fun & games. And in time AIDS educators would move out of their workshops and into our world -- their world, too, most of them. They would come to call themselves not educators but community workers, building on the intimacies that many of us had long known.
***
In the meantime Talking Sex was a step in at least one right direction, bringing to bear on AIDS prevention work the very ambiguities we had, also, long known in our lives.
The best safe sex promo would address what the gay movement hadn't dared: our quandaries about our lives. And our wondrous inventiveness in dealing with them, together.
---
Go on to 1988: Apr-Dec / Go back to Contents

This page: http://www.rbebout.com/bar/1988a.htm
December 1999 / Last revised: October 7, 2001
Rick Bébout © 2001 / rick@rbebout.com