KEVIN
of The Corvette
---
circa 1979




VI: CHARIOTEER
I was surprised to find, investigating angels, that some drove God around. I hadn't imagined he'd need transportation. But the Ophanim (also called Thrones, an order just under the Cherubim) served, I've learned, as his charioteers.
And, "having the most bizarre physical appearance of the celestial host," they were also called wheels, "covered with a great many eyes and glowing with light." How could I resist? As you'll see I did not. (Now -- or then.)
Again, this is an episode I didn't record at the time; I'm not sure exactly when it happened. (I've based that "circa" on evidence I'll give later.) So all this is from memory, much of it vague -- but key moments vivid, still.
And again, it's a Kevin. They abound in my life (with a variation to come; Michaels, too). I had met this Kevin in the early '70s, a friend of Paul Macdonald's (among the founders of The Body Politic), both in audio tech. The three of us once had dinner together, I recall -- and recall from that a tall thatch-head blond; a bit geeky I thought but not unappealing.
He went away to California for quite a time. This night at Buddy's may have been the first time he appeared in my life again -- rather transformed.
---
Buddy's was a basement, a room of buff brick and brown wood down the bend of a stairway from a back lane just off Church Street.

At the bottom of those stairs you faced the narrow end of a U-shaped bar. Its longer sides stretched off to serve spaces left and right, one big and with tables, one smaller, standing room only. Often literally: it was Toronto's most popular gay bar of the day.

That space at the end of the U was narrow and high-traffic, route to the stairway and the washrooms: a good place to lean and catch who's going by. Or get caught. I don't recall who caught whom, only that suddenly, right in front of me -- there was Kevin.




He was more blond, more tanned, than I'd ever seen him, and decked out in black leather. His pants for sure; that much I know, and with reason. We must have talked, he must have smiled -- but I'm certain of one thing he did, and without much delay (I think it was getting late).

He took the hand at my side -- my left, with his right -- and pressed it to his crotch. I felt leather stretched taut, a stiff ridge swelled dress-right. I rubbed along it, squeezed: thick, firm, rich with prospect. Seems he wanted me to know. And to want it. I did.

He knew: he beamed -- a beautiful wicked grin (for sure); he leaned in and we kissed, necked, smooched, purred, giggled (rather a spectacle I suppose, if one not all that rare). Then he said, "Let's go."

In the parking lot he led me to his car: a Corvette Sting Ray, sleek, black, low-slung. Getting in I felt we were nearly lying down, making apparent the leather between his legs, still swelled full. I reached over, rubbed and squeezed again.




And then -- was it drink? No, I don't think so; even drunk I don't presume. More the invitation, the offer of himself, pressing my hand to him stiff, eager. Still eager.

I reached with both hands and undid his fly, stretched open leather and got his cock out, straight up. And wrapped my mouth deep down on him.

He made happy sounds, half embarrassed, but by then we were off and he kept driving. I kept sucking him, wanting all of him -- even as I was half aware of people in passing streetcars who might be able to see. East along Gerrard, onto the Don Valley Parkway; all that way I didn't stop.

He (more sensibly) did, taking an exit, finding a quiet street. We parked. But best I recall we didn't do much there; he likely said: Come on now, let's get to my place. It was fairly far north, in the burbs, a nice house full of audio equipment. I don't recall everything we did there -- but for having a glorious time.

The plumbing doesn't matter really (keen as it was). Kevin did: his lanky frame rich, delicious all over; his moves firm and easy; his heat, his warmth, his grin. We did get silly, again, if more safely on his living room rug than in the bucket seats of his Sting Ray.

But would I remember it all so well if not for his chariot?
---

I may have been with Kevin at his house again, but can't say for sure. I think he moved back to California not long afterwards. We didn't do it again in the Corvette: that I expect I'd recall.

In fact, I date this piece by memory of another car and another man. Ross Irwin once gave me a ride to The Body Politic's printer in Scarborough, page flats for an issue going off to press. Ross was with the paper in 1979 and 1980. I had rather a thing for him early on, and recall being quite tempted on that trip by his neat hips in the driver's seat beside me.

But I didn't.

I did some years later, on a visit to Boston in 1987, finding at Sporters a sweet guy who'd been a U.S. Army buck private -- hence "Bucky," he said, so that's what I called him. We spent a lovely evening at his place in Arlington; rather romantic the boy: he wanted to pretend we were lovers. I didn't mind: I was due to fly away soon enough.

But what's most vivid in my mind about Bucky is his Jeep, sailing along Boston streets I didn't know well -- and didn't get to see. My attention (so to speak) was fixed deep on the charioteer. Bucky liked it.




That episode, though, seemed the usual holiday trick (if a nice one). Kevin, landing serendipitously in my life once again, bestowing himself with such brazen radiance, so sure I'd want him, a gift of grace. And then gone.

That's more like an angel.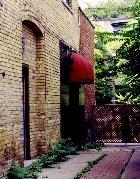 64-66 Gerrard Street East:
At Church; from 1978 to 1987 home to Crispin's restaurant
(entered from Gerrard) and Buddy's, down the lane
-- and down the stairs -- at the back. Its laneway,
if in a later incarnation, is shown below.
Buddy's was one of Toronto's earliest gay-owned gay bars, its publican George Hislop, his lover Ron Shearer with Crispin's. It was also just the second gay bar on Church Street (since the '60s, anyway), The Barn all alone there since the mid-1970s.
George had a long gay activist career (he's all over Promiscuous Affections), and would open a series of other bars (you find those there, too). But Buddy's was unique, a veritable community institution. You can find out more about it in 1978.
Of the other key Kevins in my life -- Orr, Hunt, and Bryson -- you'll find all of them there too. The first quite often, from 1982 onwards: a comrade at The Body Politic, later the AIDS Committee of Toronto, and a dear friend still. For Kevins Hunt and Bryson, see Other Angels.
Angel image: "Visioni di Ezzechielio," by Raphael.
Next episode: VII: Visitation
Go back to: Preface
Go to My home page
This page: http://www.rbebout.com/angels/chariot.htm
Christmas Day, 2000 / Last revised: July 12, 2003
Rick Bébout © 2001-2003 / rick@rbebout.com